Taunton Pride has now finished for 2023.
Please check back for more details about future events soon.
THE MARCH
Kick starting this year's celebrations, we take Pride back to its roots and invite you to come and join the rest of the community to take part in our official 2023 Pride March which will start to gather from 11am.
MAIN EVENT
BOX OFFICE NOW OPEN !
At noon on the 16th of September the gates of Vivary Park will open for this year's main event which stays open until 8pm in the evening. You can expect a welcoming, diverse and inclusive event that allows you to celebrate your pride, your way.
GET INVOLVED
Come and join the TeamTauntonPride and help us run this year's event.
EXHIBITORS and TRADERS
We are now taking applications for Traders, Vendors, Community Groups and Exhibitors for this years event. With a wide range of options we wil have something for all.
With just ten days before Taunton Pride 2023 Organisers, and partners are working to ensure the final elements are firmly in place ahead of this year's event.
Read More »
It's that time again. Friday Afternoon. Artist Announcement Time .. and today we give you Taunton's very own diva – @valerievonhussle! More still to come,
Read More »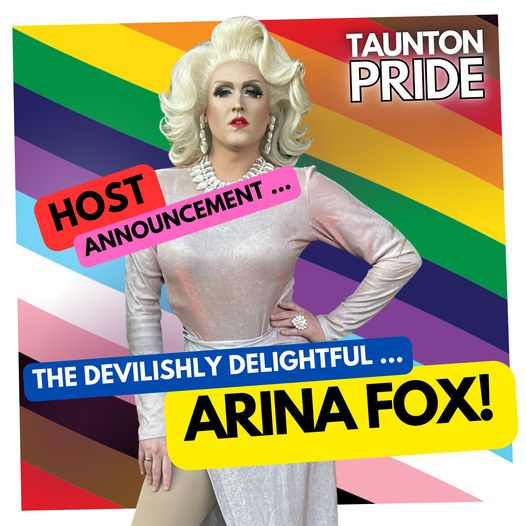 HOORAH IT'S FRIDAY! Which means it's another Announcement Day, and today it's the turn of our incredibly talented host @arinafoxofficial Hold onto your hat's people,
Read More »
Want to be the first to know?
Sign up for our newsletter and be the first to hear about all of this year's breaking news.
Taunton Pride CIC operates as a not for profit organisation. Hosting what has now become our annual Pride Celebrations always needs external support from commercial partners.
We have a wide range of packages available, and are always keen to hear from companies and organisations that would like to support our efforts in creating safe, and unique spaces for our community in and around the area.
If you would like to know more then please click here to contact our Event Director for an informal conversation or call 01823 286688 (Option2).